A Mindset Shift With Proven Strategies For Success!
A mindset shift is successfully when implementation is on maintaining an open attitude toward the people in your family you are bringing along on sharing and eating these delicious whole foods. Whole foods diet is not a short-term cleanse or weight loss program…it is a lifestyle change that when you follow, consuming foods that grow in their season throughout the year, will reward you for the rest of your very long and healthy lifetime.
As with any significant shift, it is important to be prepared. I'm talking about taking stock of your why. There are so many reasons for embracing a mindset shift that leads to a lifestyle change.  It could be: 
Because your doctor just gave you some scary blood pressure numbers and you need to make changes before it's too late.
Maybe you are trying to lose weight and improve your sense of vitality and well-being.
Or you are upping the odds on you aging gracefully, staying active and thriving well into your old age.
You may already be suffering from a chronic condition like high blood pressure, heart disease, or diabetes and want to reverse it and get off your medications.
And best of all you are supporting someone you love who needs to make this mindset shift and you have decided to support them on their journey.
Know that I also had to make that shift, so embrace your reason for doing this and think about the outcomes you would like to see…not the bad things you want to avoid, but the positive things you'll gain.
Start by envisioning what you'll do with your longer, healthier life, when you are fit and vital into old age.
Proven Strategies For A Successful Change
A gradual change can be accomplished through my 5-day seasonal body reset programs, is the most effective and lasting path. This way you're giving yourself time to adjust and develop confidence in the suggested food preferences within the program.

Most people assume with detoxification, or a dietary change there's self-deprivation, not realizing that, given time to adjust their bodies will eventually enjoy more wholesome foods. We are blessed with the amazing ability to adapt to the new and unexpected.
When getting started on your mindset shift get support.
If you live alone, or if your partner or family is not making the change with you, it is essential that you find support on this journey. Within my whole foods body reset cleanse and detox program there is a dedicated private facebook group.
We've all faced the challenges you are facing, the strategies that work and the new favorite foods you'll be discovering.
Here are what some people are saying:
I asked my husband to look through the recipes and pick 2 he wanted me to try and he couldn't decide because everything looked so delicious.  So far I've made 1 soup, 1 stew and 2 breakfast recipes and everything's been so yummy but what I like best is playing with foods I usually don't use. – Robyn D, New York, NY
I was totally blown away at how amazing the recipes were. I thought I would be starving the entire time, but I wasn't. I had so much energy and loved all of the food. My favorites were the chili, curry, lentil soup, the chocolate fat bombs were the bomb. I LOVED the Pumpkin Latte!! Everything was so good and super easy to make. Happy to share that my hubby decided to join me in the detox. He lost 5 lbs and I lost 3. BYE BYE BLOAT!! So happy I decided to give this a try! Charity Murphy, Los Angeles, CA
Your Mindset Shift
Start your mindset shift thinking of food as neither good nor bad and intentionally having a positive outlook on what you eat throughout the day.  

One practical way you can do this is by focusing on what to eat instead of what not to eat. Focus on your food each plate at a time, and it takes the larger burden of eating the perfect diet off your shoulders.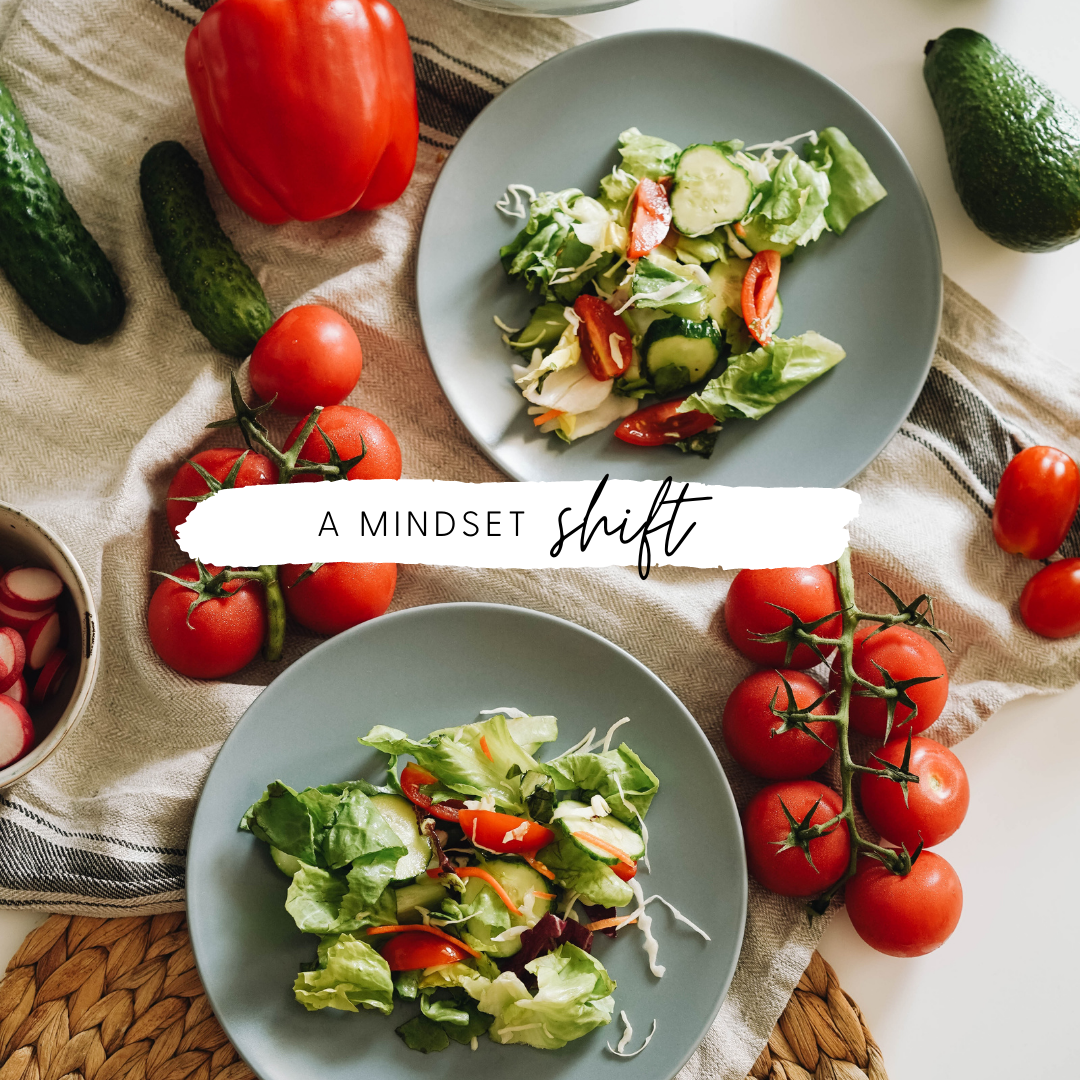 Also, you may be ready to make a mindset shift change where your diet is concern but when you think of your family, especially the kids, the idea of change to them, you start thinking how am I going to get my kids to eat veggies.

Implement a gradual approach and be flexible. For your family or kids, have them choose a vegetable or two they'll eat for one week. Let them taste one of the suggested meals. At the same time don't let anyone hinder your personal mindset shift goals.
The eating of whole foods to some people is with the false perception of lousy food. The best way to overcome that perception is to experience the reality, which is living this way is all about delicious food shared and eaten together.
People Expressing Their Change!
I have done multiple detoxes over the years with various degrees of success. I was over-the-moon with the deliciousness and simplicity of the recipes, the fact that my family enjoyed them, too and that I lost - no joke - 6.3 pounds in one week! I feel great and continue to eat gluten and sugar free. - Caroline S. Washington DC
I went into the detox with the mindset that I can do anything for 5 days and I was in 100%. I followed it exactly for the full five days. I feel lighter and lost 5.4 lbs (I had been stuck at the same weight for months). By day 3, my afternoon slump and need for a nap went away. I loved the meals! They are quick, filling, and delicious. My eyes look brighter. It was absolutely worth it! If you are looking to kickstart your health journey, I highly recommend it. Rhonda T
So, what would shift in your life if you treated food with a more neutral mindset? 
The mission here is to make choices that benefit your body and not feel restricted or guilty about your choices. When you steer away from "good" and "bad" foods and focus on what makes your body feel good, it leaves you with an incredible feeling of freedom and wellness. 
You have accomplished your mindset shift.
People With New Mindset Shift:
The good news is I now know that 5 days of fueling my body with good stuff and eliminating the not so good stuff is enough to feel great. It's motivated me to incorporate some detox recipes into my weekly meal plan and swap out my coffee for a matcha latte a few times a week. Danielle A.
I had never done a detox quite like this one. I found that by Wednesday my sleep improved, and that's a considerable development for me. From an average 3 or 3.5 to 5 and 6 hours. Incredible! I cannot say enough how beneficial solid sleep has been for me! The food is great too, and I have added some new staples into my diet. The Chopped Detox Salad was a huge hit! Thank you so much. Renee L. Boston. Portsmouth, Boston
Return from A Mindset Shift to Detoxification