Curious About Me?
Hi, thanks for being curious about me, my name is Donna Williams; and for visiting WOCdetox which stands for Women of Color Detox. I am the creator and publisher of WOCDetox.com, and the instructor of all four seasons - spring, summer, fall and winter - body detox programs.
I'm from the island of Jamaica where we eat spicy, flavorful but heavy meals. So being attached to a website about eating healthy made me smile.
A long time ago a doctor, who was severely obese himself, told me I was obese. Back then, I got angry and refused to accept that label. That doctor was correct about me being overweight.
Seriously my life was in danger because obesity reduces your life's quality and longevity.
I have tried so many weight loss diets, cutting carbs and anything else depending on the diet at the moment.
What I have since learned is that you need to eat, please your appetite and cravings. Starvation is not the way to losing weight.
We, as women and women of all color are the caretakers of our families, so we are expected to take of care everyone, in making sure the meals we prepare support our family's health goals.
At the same time, I have made huge steps in self-prioritization.
About Me And How I Self-Prioritized
Ackee and fried dumplings.
I first started an exercise program and thought I was eating pretty healthy. My cultural foods are spicy, fried, heavy on the digestive system and delicious.
Soon I realized I wasn't and couldn't exercise enough to maintain my body type weight. It would take me exercising at least two hours a day, 7 days a week, just to get started.
I was killing myself; my body was breaking down from too much exercising. Yes that can happen when you overuse your muscles.
Now I had to develop a new relationship with how foods are prepared in a healthy manner. Everything then became about my longevity possibilities and me.

So I did a year's study and became a Certified Integrated Nutrition Health Coach. I discovered flavorful oils that made foods and especially vegetables tastes pops.
My pantries were cleared of every oil that did not support good health and were flavorful. It's a pleasure to prepare meals that are colorful and filing without feeling bloated after consuming a satisfying meal.
Curious About What Detoxing Can Do For You?
I learned I could eat on a daily basis food that detoxes my body. It changed my relationship to foods. It can do the same for your.
Detoxing using whole foods doesn't mean you'll be hungry, it means you are eating meals that allows the body to have a break from ingesting new chemicals and toxins.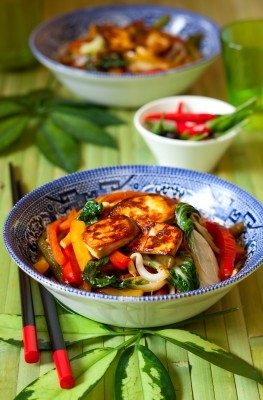 Scrambled tofu
During that break, your body is able to mobilize the existing toxic substances and dump them into the bloodstream so they can be expelled.

Me, like every woman I know, whether of color or not, want to be assured that detoxing offer us the best way for our families and for our individual self get to stay on our health goals.
We want to enjoy whole foods that look appealing, filled with foods as colorful as the rainbow, delicious and satisfying.
Would like our food choices well balanced, and supports our good health.
And last but by no means the least, our meals are easy to prepare preferably in thirty minutes or less!!
That's not much to ask for is it?
Thanks so much for visiting WOCDetox.com and I hoped I met your curiosity about me, and remember you can email me at Donna@wocdetox.com.

XO!
Donna
Return To Body Detox Home Page
Communication, Truth, Honesty, Commitment, and Accountability.
Donna Williams is an Integrative Nutrition Health Coach specializing in helping women of color who are seeking improvements in their energy level, weight management, cardiovascular health and the slowing down of the aging process.
Her mantra is - Eat Well To Live Well!
We live in an increasingly toxic world, so the intention is to educate, encourage and empower people to make smarter, and healthier food choices for themselves and their families.

With private coaching, online courses, an author, and workshops, Donna has been serving clients since 2017.
email address: Donna@wocdetox.com